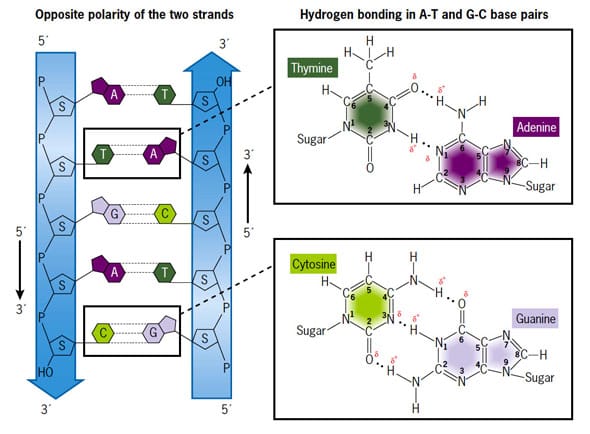 Structure, properties and various forms of DNA
Watson and Crick (1953) Double Helix Model of DNA: Salient features​
Two polynucleotide chains wound around in a right-handed (clockwise) double-helix.

​

In polynucleotide chains nucleotides are joined by phosphodiester bonds. The 

polynucleotide chains are anti-parallel to each other: 5

'

→

 3

'                                                                                                                                                                                                                                                                                                                                             

3

'

→

 5

'

​
Sugar-phosphate backbones of the nucleotide chains are on the outside of the double helix, and the bases are

oriented towards the central axis.

​

Both the polynucleotide chains are complementary to each other. The base pairing is 

very specific, 'A' always pairs with 'T' (2 H-bond) while 'G' pairs with 'C'(3H-bond).

​

Base pairs are 0.34 nm apart.  The pitch of the helix is 3.4 nm, One complete helical 

turn has 10 bases. 

​

The sugar–phosphate backbones of the helix are not equally spaced along the helix 

axis and this

creates 

a major groove and minor groove on the surface of the duplex

​

Double helix is stabilized by two non covalent interactions:

a. H- bonding

b, Hydrophobic interaction.
To check your knowledge on DNA structure, properties, types and function click the following link
MCQs on DNA structure and functions
​