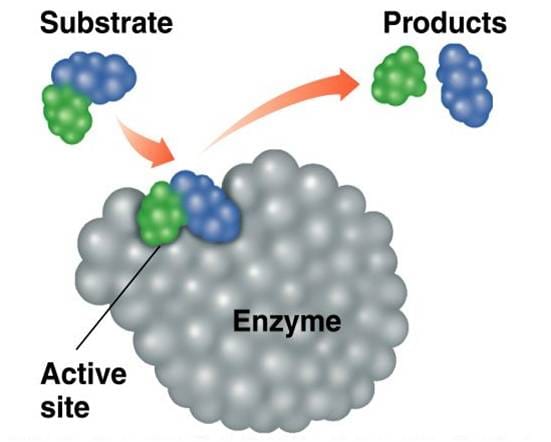 Enzymes I​: Catalysis, Chemical catalyst, Biocatalyst, Deference between chemical catalyst and Biocatalyst, Brief history of enzymes, Properties of enzymes, Composition of enzymes, Cofactors and coenzymes, Active sites, Classification of enzymes​
Enzyme I: Catalysis, Chemical catalyst, Biocatalyst, Deference between chemical catalyst and Biocatalyst, Brief history of enzymes, Properties of enzymes, Composition of enzymes, Cofactors and coenzymes, Active sites,  Classification of enzymes
Catalysis

 is the change in rate of a chemical/Biochemical 

reaction due to the change in activation energy of that 

reaction by the involvement of a catalyst. 

​

Catalysts 

are the Substance that increase or decrease the 

rate of a chemical reaction but remain unchanged

​

A catalyst generally brings down the energy of the 

activated state and thus the catalytic reactions have a 

lower rate-limiting free energy of activation than the 

corresponding unanalyzed reaction, resulting in higher 

reaction rate at the same temperature

​

Biocatalyst

 a.k.a.

 Enzymes

 are proteins that increase 

rate of biochemical reactions converting substrate into 

product.
Properties of enzymes
As almost all Enzymes are proteins, their ability to catalyze reactions is 

attributable to their primary, secondary, tertiary, and quaternary 

structures

​

Enzymes accelerate chemical reactions tremendously

​

Highly specific with respect to their reactants

​

Work at specific temperature, pH and substrate concentration

​

Get denature at high temperature and extremes pH

​

Generally do not change during the course of reaction

​

 Catalyze only thermodynamically possible reactions 

​

A small amount of enzyme is sufficient for a large change in the rate of 

reaction

​

 Don't change the position of equilibrium and direction of the reaction

​

 Enhance rate of any chemical reaction by decreasing the activation 

energy barrier of reactants

​

Usually act by forming a transient complex with the reactant, thus 

stabilizing the transition state

​

Reactants of enzyme catalyzed reaction are called substrates

​
History​​
1833: Enzyme was isolated from aqueous extract of malt when 

ethanol was added. The heat-labile precipitate is now known as 

amylase was utilized to hydrolyze starch to soluble sugar.

​

1878:  Enzymes term was coined by 

Kuhne

 to explain the 

substances present in the yeast that can convert sugar in to 

alcohol

​

1890: Emil Fischer suggested key/lock mechanism of enzyme 

action

​

1897: Eduard and Hans Buchner showed dead yeast cell extracts 

can perform reactions of living cells that is conversion of sugar in 

to CO

2

 and alcohol. 

​

1928: J B Sumner succeeded in crystallization of enzyme 

urease

 

for the first time and stated the 

proteinaceous

 nature of enzyme. 

Later, in 1946, Sumner  received the Nobel Prize for his work 

with the enzyme 

urease

.

​

1930- Northrop and Stanley purified digestive enzymes pepsin, 

trypsin

 and 

chymotrypsin

.
Composition of Enzymes​
​

Simple Enzymes

: Some enzymes are made of only polypeptide chain 

and do not require any additional chemical groups or molecule for 

their activities are called simple enzyme. 

​

Holoenzymes

: Some enzymes require an additional chemical 

component for their activities called a 

cofactor—either one or 

more 

inorganic ions, such as Fe

+2

, Mg

+2

, Mn

+2

, or Zn

+2

 or a complex organic 

or 

metalloorganic

 molecule called a 

coenzyme. 

​

Coenzymes act as transient carriers of specific functional groups

). 

Most are derived from vitamins, organic nutrients required in small 

amounts in the diet. 

​

Some enzymes require 

both a coenzyme and one or more metal ions 

for activity

. 

​

A coenzyme or metal ion that is very tightly or even covalently bound 

to the enzyme protein is called a 

prosthetic group. 

​

A complete, 

catalytically active enzyme together with its bound 

coenzyme and/or metal ions is called a 

holoenzyme

. 

​

The protein part of an enzyme is called the 

apoenzyme

 

or 

apoprotein

.  

​